Within the Context of Obama
By Benj DeMott
On Inauguration Day, I went to a Serious Times dialogue – a university seminar (at New York's School of Visual Arts) where American radicals ponder "Why doesn't the United States make social progress?" What follows here takes in the distance between discourse there and spectacles of…social progress enacted by Obama et al. as he launched his second term. But it's not locked on that opposition. I try to say true things about where we're at now by treating old and new acts of mimesis, including classic Russian novels by Vasily Grossman and a soon-to-be classic hip hop CD by Kendric Lamar. My approach to politics and high/low culture is intuitive. This is not a scholarly essay. Call it an experiment in synchronic method. Continue reading "Within the Context of Obama"
The Principle of Political Compromise
By Eugene Goodheart
I believe that in our current political and economic crisis the liberal view is mainly, though not entirely, in the right. Inflicting austerity on a weak economy, the ambition of fiscal conservatives, seems the wrong way to go, but there is the gray area of deficit and debt where neither side appears to be in complete possession of the right policy. Continue reading "The Principle of Political Compromise"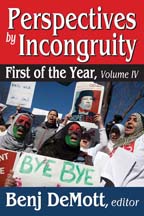 Get the new FIRST volume,
PERSPECTIVES BY
INCONGRUITY,
right here
State of Play
By Fredric Smoler
In 2008 J.M. Shaw published a well-reviewed first novel, The Illumination of Merton Browne, an enthralling and at times harrowing story narrated by a whilom middle class fifteen year old boy. Merton, Shaw's narrator, was on the eve of either catastrophe or liberation, either of which could be achieved in his extremely bleak British comprehensive school. The first fate seemed much more probable, and the occasional brutality and near-hopelessness of Merton's world were a bit startling in conjunction with both his engaging voice and Shaw's peculiarly satisfying and very traditional plot, but in that context they really were startling, so the pairing made for an eerie and effective combination. It was also impossible to pin down Shaw's politics, which is rarely the case with what used to be called Condition of England novels, and Shaw's originality provoked understandable admiration in the critics. Continue reading "State of Play"
The Great Divide
By Anita Franklin
The "Cool Britannia" of the noughties has now become Cruel Britannia –a country ruled by a coalition of parties, one as bad as the other for dividing its population into "skivers" and "strivers." Continue reading "The Great Divide"
Letter to a Casuist
By Ty Geltmaker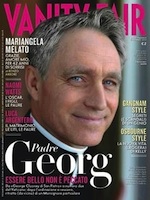 The Italian VF cover refers
to Pope Benedict's "friend," Padre
Georg, as a "Monsignore particolare,"
old-style Italian slang for homosexual,
as in "rapporti particolari."
Dear Thomas Reese: Your comments on CNN to Piers Morgan (February 25th, 2013) regarding allegations of gay sexual activity in the Vatican are a perfect example of the casuistry I learned to reject – though the lesson wasn't always carefully taught – during my 12 years of Catholic education, fortunately tempered by the winds of reform under John XXIII, even as I at the end of the reign of Pius XII was learning Latin and serving as altar boy in a changing Church. I went on to other worlds from the Peoria into which I was born, baptized by the Rev. Athanathius Ostermeyer at St. Boniface Church and a great hybrid Catholic/secular education at Spalding Institute/Academy of Our Lady where reformist priests and nuns opened the world to curious students. I am forever indebted to the Catholic Church for having challenged me – as my not traditionally Catholic parents also did – to learn well and speak truth to power. Continue reading "Letter to a Casuist"
Takeaway: My Lunch with Osama bin Laden
By Rory Nugent
Watching the movie Zero Dark Thirty, I kept thinking about my own time with bin Laden, in 1994. It involved no torture. No drama. The hunt was not yet on. Instead, like him at the time, I was searching for answers in Khartoum from the preeminent enabler of Radical Islam, Hassan Al-Turabi...I was working for a Rock-n-Roll magazine; bin Laden was on his own and on the lookout for talent to join his gang, Al-Qaeda. Continue reading "Takeaway: My Lunch with Osama bin Laden"
The Gatekeepers
By Director Talk & Dror Moreh
In The Gatekeepers, Dror Moreh speaks with former directors of Israel's secret service, the Shin Bet, about Israel's war on terror, Rabin's murder, targeted assassinations, and the Jewish Underground. The film has caused a furor because these men, who have devoted their lives to Israel's security, all believe Israel should end the occupation. They favor a two-state solution. Continue reading "The Gatekeepers"
The H.D. Book
By Aram Saroyan
Robert Duncan began writing The H.D. Book in 1959 and finished it except for embellishments in 1961; yet only now, half a century later, has it reached book form. A prose masterwork that begins with the story of Duncan's initiation as a poet, over the course of its 646 pages it morphs into a visionary meditation in which H.D., the American poet born Hilda Doolittle (1886-1961), remains the thematic touchstone. Continue reading "The H.D. Book"
Gilbert Sorrentino
By David Golding
It might have been Lorca who said that literature is dangerous. In Imaginative Qualities of Actual Things, Gilbert Sorrentino, who incidentally was a great admirer of Lorca, apothegmatizes that homosexuality is not revolutionary, is rather "sexual reformism to rescue one from terror." Nevertheless, Lorca died, in part, because he was a homosexual as well as a great poet of the last or penultimate revolution*, while Sorrentino's anti-hero Lou Henry is a bad poet, a bad translator of Lorca, and a bad (failed) heterosexual. Continue reading "Gilbert Sorrentino"
Jug Eyes
By Gerald Majer
The Boss is Back! The album was on the Prestige label, the first Gene Ammons made after being released in 1969 from Stateville Penitentiary following a seven-year term for heroin possession. With Junior Mance on piano and Buster Williams on bass. Bernard Purdie on drums, Candido on conga, it's a hell of a record. Continue reading "Jug Eyes"
Zebra
By Roxane Beth Johnson
Zebra refers to Black/White mix. Relates the colors of a person's parents to the colors of a zebra's stripes.—The Racial Slur Database Continue reading "Zebra"
Self Portraits
By Carmelita Estrellita
I'm in rapture/almost blown away/only a shit-for-brains could understand/how I feel today... Continue reading "Self Portraits"
Star Time
By Bob Liss
Everyone agrees basketball has changed dramatically over the decades since the NBA began in the 1940's, but just how do we measure, mark, and comprehend the shock of the new game? Continue reading "Star Time"
Recent Entries